Testing -PSAT, SAT, ACT, AP, and more
PSAT 8/9th
Who: 9th graders

Where: At school

When: Wednesday, October 10, 2018.

Fees: Free to all 9th graders

The PSAT 8/9 helps students determine what they need to work on most so that they're ready for college when they graduate from high school
PSAT/NMSQT
Who: 11th and 10th graders

Where: At school

When: Wednesday, October 10, 2018.

Fees: Free for all 10th graders, and to the first 200 11th graders with a low and reduced fee letter (Contact Maria Tavares @ tavaresm@esuhsd.org). $16.00 for the rest of the students.

Besides helping students determine how ready are they for college, the PSAT/NMSQT is looked by scholarship programs, including the National Merit® Scholarship Program, to identify eligible students.
SAT
Who: 11th and 12th graders

Where: At different sites (MP is a site, but it fills up quickly)

When: See schedule in the back.

Fees: $64.50 with essay

Waiver: Request one from your counselor with your free and reduced letter (Contact Maria Tavares @ tavaresm@esuhsd.org).
The PSAT/NMSQT is the Preliminary SAT/National Merit Scholarship Qualifying Test. The PSAT is a great primer for the SAT, and even the ACT, but it's more than just a trial run. PSAT scores are used to identify National Merit Scholars and award merit scholarships. More than 3.4 million high school students (mostly juniors and sophomores) take this nationwide, multiple-choice test every year.
PSAT Quick Facts
| | |
| --- | --- |
| Frequency | 1 time/year |
| Duration | 2 hours, 45 minutes |
| Sections | Math, Evidence-Based Reading & Writing |
| Cost | Fees are paid by schools |
| Max. Score | 1520 |
What is the PSAT and why is it important?
The PSAT won't count towards your college admissions applications, but it is the qualifying test for the National Merit Scholarship. Some of the highest scoring students may win scholarship money, so while you shouldn't stress out about the PSAT, you certainly shouldn't ignore it either. Use the PSAT as practice for the SAT and ACT and an important guidepost on your college admissions journey.
When is the PSAT?
The PSAT is offered nationally every year in October. Ask your school counselor about when your class is scheduled to take the PSAT. View upcoming PSAT test dates.
What does the PSAT test?
The PSAT has two sections: Math and Evidence-Based Reading and Writing. You'll encounter passage-based questions—sometimes accompanied by tables, graphs, and charts—and math problems drawing upon algebra, geometry, and a little trig.
Learn about the 2015 changes to the PSAT.
How is the PSAT scored?
Each section is scored on a scale of 160–760, making a "perfect" score 1520. There are also test scores, cross-test scores, and subscores. Find out more about PSAT scoring.
Did I get a good PSAT score?
Good question. The highest scores and percentiles earn National Merit Recognition. But PSAT scores are also useful in determining your best prep strategies for the SAT or ACT. For a PSAT score report consultation, call us at 800-2REVIEW.
How do I register for the PSAT?
Check with a counselor at your school or at a school in your community to sign up.
How should I prepare for the PSAT?
The PSAT and SAT tests are almost identical: the PSAT is 15 minutes shorter, does not include an essay, and has a slightly different scoring scale. By prepping for the SAT, you are prepping for both tests! For a limited time, get our PSAT prep (a $299 value) for free when you enroll in a comprehensive SAT course or tutoring program
The SAT is offered seven times each year in the U.S. and six times internationally.
| 2018-19 SAT TEST DATE | REGISTRATION DATE | SCORES BACK DATE** | SUGGESTED PREP DATES |
| --- | --- | --- | --- |
| Saturday, June 2, 2018 | May 3, 2018 | July 11, 2018 | |
| Saturday, August 25, 2018 | July 27, 2018 | September 7, 2018 | |
| Saturday, October 6, 2018 | September 7, 2018 | October 19, 2018 | August → September |
| Saturday, November 3, 2018 | October 5, 2018 | November 16, 2018 | September → October |
| Saturday, December 1, 2018 | November 2, 2018 | December 14, 2018 | October → November |
| Saturday, March 9, 2019 | February 8, 2019 | March 22, 2019 | Jan → Feb, 2019 |
| Saturday, May 4, 2019 | April 5, 2019 | May 17, 2019 | March → Apr, 2019 |
| Saturday, June 1, 2019 | May 3, 2019 | July 10, 2019 | May → July, 2019 |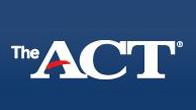 The ACT
Students are encouraged to sign up early for test dates.
ACT is also offered at other locations (not MP). Please check the website below for more information.
To register for the ACT, go to the ACT Student website (linked below) and follow the instructions. See your counselor for MP's School Registration #.
Click on the "Scores" link of the ACT Student website for information about when scores will be made available once the testing is complete.